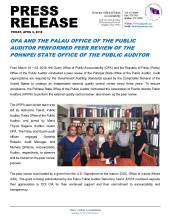 The Office of Public Accountability (OPA) together with the Republic of Palau (Palau)
Office of the Public Auditor recently performed a peer review of the Pohnpei State Office of the Public Auditor. Audit organizations are required by the Government Auditing Standards issued by the Comptroller General of the United States to undergo an independent external quality control review (peer review) every three years.
The peer review was funded by a grant from the U.S. Department of the Interior (DOI), Office of Insular Affairs (OIA).
You may view this announcement by clicking on the link below.