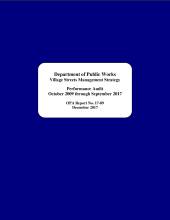 The Office of Public Accountability (OPA) is delighted to share that the Association of Local Government Auditors (ALGA) has awarded OPA the Exemplary Knighton Award for the audit of the Department of Public Works Village Streets Management Strategy (OPA Report No. 17-09) in the Extra-Large Shop category.
This is the first time OPA received an award for an audit, but not the first time to receive an award from ALGA. OPA received two Silver Website Awards back in 2009 and 2011.
You may view this announcement by clicking on the link below.